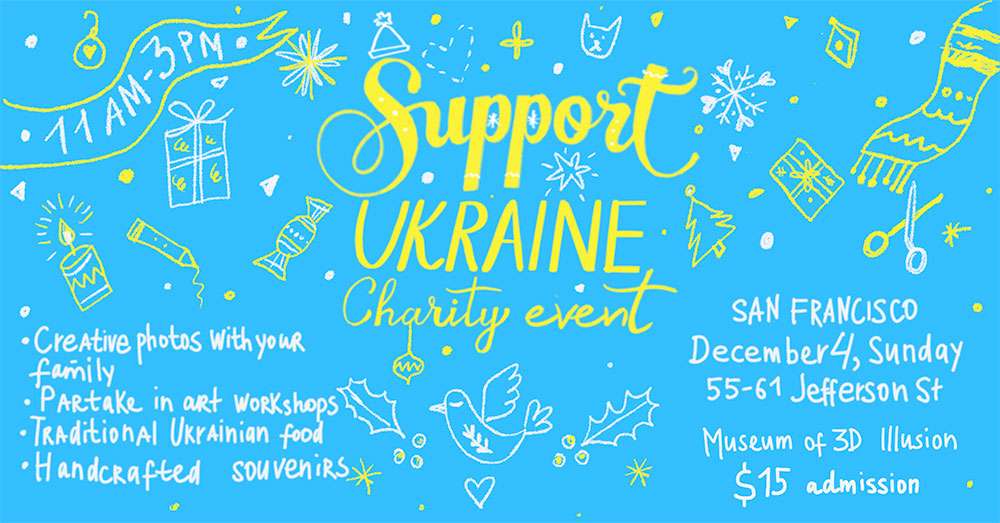 We invite you to the Museum of 3D Illusions in San Francisco to join the Support Ukraine Bake Sale. The program includes 4 art classes, during which children will be able to make a New Year's card, cut snowflakes, and make origami together with the teacher.
One of the artists is the Belgian Lotte Van de Walle, recently her book about the ghost girl was published in Belgium.
For those who are ready to release adrenaline, there is a special anti-stress activity: throwing plates at the wall. It is recommended to write about pain on the plates.
For a good mood, there will be live music performed by an Ukrainian singer and musician Bohdan Andrukh.
The goal behind this charitable event includes raising awareness and funds for the people of Ukraine.
The event will take place on December 4th 2022 at 11:00 am PST (4 hour duration)
Admission fees include unrestricted time for the duration of the charity event along with access to regular operating time for museum admissions until 8 pm to enjoy our illusions and immerse yourself in the experience.
Food and souvenirs will be given away for a donation
What to expect on the inside:
Traditional Ukrainian cuisine;
Handmade souvenirs;
Traditional Ukrainian clothes;
Kids workshop with professional artists;
Kids workshop schedule:
Doors open: 11:00 am
First workshop: 11:30 am
Second workshop: 12:30 pm
Third workshop: 1:30 pm
Date: December 4, 2022
Time: 11 am PST
Location: Museum of 3D Illusions, 55-61 Jefferson St, San Francisco CA, 94133
For more information, please contact us at info@bigfunnyusa.com