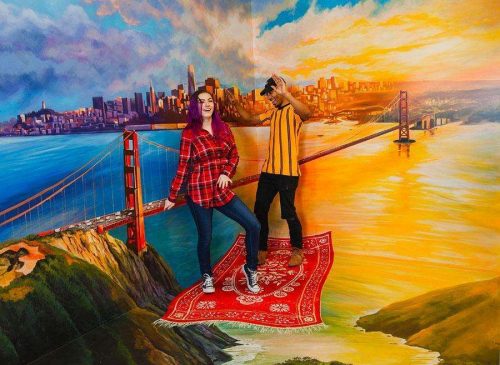 The Museum of 3D Illusions comes with social media ready with interactive 3D Illusions that will take your breath away, transporting you to a world of fantasy and imagination!
Smash it!
Smash the plates with your stress-filled thoughts, let all of your negative emotions out, and feel happy! The more dishes you break, the better you will feel afterward!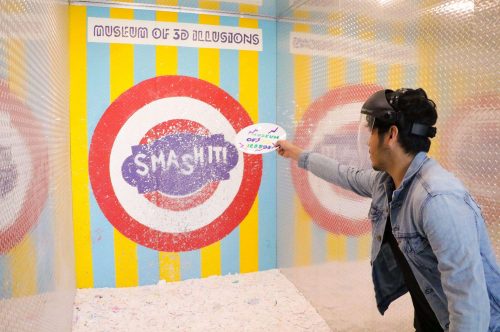 VIP Experience
You too can be a Hollywood VIP person with the VIP Experience tickets package at the Museum of Illusions!
You can't put a price on memories, but with our e-gift cards you can give anyone a memorable experience!
School Groups
Mesmerize your classroom with a fun experience that combines the science of visual perception and the magic of illusion!
The Museum of Illusions is perfect for birthdays, parties, team building, and other events with those that matter!
I loved this museum! There are about 40 hand-painted fun murals that you can take pictures with, showing various interesting scenarios and allowing you to strike funny poses and take funny photographs. We did the VIP package which is more expensive, but gives you a dedicated photographer…
My first time here is San Francisco and thought I would check this place out and wow just blows my mind on how creative the 3D illusion paints were. The staff were very friendly and fun and helpful as well on making the photos look amazing. If I ever come back to San Francisco again …
The place is conveniently located between pier 39 and fisherman's wharf – the magnet of tourist attractions. We were greeted by a friendly host, and were explained how to navigate in the space. If you are not a selfie monster and don't know how to pose, look out for framed examples ….
Enter a World of Wonder
San Francisco museums are known for their inspiring, world-class art, but nowhere will you have as much fun exploring the art world than at the Museum of Illusions. This museum is designed to let visitors' imaginations soar, surfing epic waves, flying through the sky like Mary Poppins, or living like a Lilliputian in a dollhouse. Anything is possible in our lavish dreamscape, making the Museum of Illusions the most fun museums in San Francisco.
Train Your Brain for Fun
Of all the museums you can visit in San Francisco, nowhere else will you see so many two-dimensional artworks that fool the observer, who views the work from a particular perspective only to see it transform into a mind-bending 3D scene. The fantasy scenes in our fun museum are in the style of the 3D street art you see in metropolitan centers around the world, gathered here under one roof. This is what makes a visit to our fun museum enchanting for people old and young.
Art That Includes You
The Museum of Illusions is one of the most fun museums around because it is fully interactive. Unlike a traditional museum experience, at the Museum of Illusions, you roam freely right through the creations so you can get up-close and personal with the gorgeously executed imagery. You will want to dive straight in to play and pose in our exhibits. It's rare for museums in San Francisco to give such uninhibited license to its patrons through its art. Because each person's interaction with the art is different, every experience is unique. In a sense, the observer is allowed to be the art.
The Best Part of Your Tour of Fisherman's Wharf
Whether you live in San Francisco or you are just visiting, no doubt you will want to visit Fisherman's Wharf, where you can grab chowder in a sourdough bowl from a street vendor, visit a variety of boutiques and stalls, and look out on famous vistas, such as the Golden Gate Bridge and Alcatraz. You can include the Museum of Illusions in your tour of the local attractions and San Francisco museums, or simply visit us as a standalone in between grabbing a bite and taking a stroll to watch the waves.
There are a number of places you can park just steps from our door. For added convenience, reserve your parking spot on SpotHero before arriving at our fun museum.
A Pop-Up Museum Aesthetic
Even though our museum is a permanent fixture of one of San Francisco's busiest tourist areas, the experience at the Museum of Illusions is often compared to that of a pop-up museum, in which temporary art events are installed that are much less formal to visit than a traditional gallery-style museum. As in other big cities, pop-up museums in San Francisco give art lovers an opportunity to have multi-sensorial and sometimes unusual art encounters in an entertaining and amusing way.
Fun Is Number One at the Museum of Illusions
Our dedication to pure fun is the reason why the Museum of Illusions is the ideal destination for groups of any age range and size. There are so many San Francisco museums to see, and each one has its own treasures. The Museum of Illusions, however, makes for a particularly easy outing no matter who you go with. You don't need a special knowledge of art to enjoy our creations. You won't need to whisper and contemplate the art quietly. Kids and adults alike can explore the art with boisterous glee and let their imaginations run wild.
Snap That Shutter
Have you ever been asked not to photograph the art in a museum? That won't happen at the Museum of Illusions. We know that you will want to take pictures of our confounding creations, and we want our artwork to inspire selfies that are worthy of your social media pages. If taking great pictures isn't your strong suit, we have equipment and professional photographers on hand to make your selfies legendary. The minute you step into one of our whimsical scenes, you will want to take center stage. Why not give yourself the star treatment?
Birthday Parties Welcome
Blow your party guests' minds with a celebration at the most fun museum in San Francisco. What could be better than belly-laughing with your friends in a vibrant, mystical dreamland? Call one of our representatives to learn about the birthday packages we offer. We can arrange special rates for tour groups and team-building events, too.
Learn through Experience
Unlike other San Francisco museums, we can offer an interactive learning experience in which science and art come together. Students will be brimming with excitement about their excursion to learn about the science of perception and the art of perspective.
Buy an E-Gift Card
You will be hailed as the best gift-giver ever when you give a Museum of Illusions gift card. Who wouldn't love a trip to one of the most fun museums San Francisco has to offer? Our experiences are for people of all ages and perfect for many occasions, such as holidays, birthdays, and anniversaries. Give the gift of an interactive art experience today!
Book a VIP Package
Looking to shake up your next family portrait shoot or holiday card? Do you have kids who never like to pose for the camera? When you book our VIP package, a personal photographer will follow you and your party through the exhibits to take professional-quality pics for you. It's a clever way to turn a fun museum trip into a photo op, and it never fails to produce photos full of smiles.